2017 has been an incredible year for UGRacing. For the first time, the team made it to all dynamic events and placed 21st overall at Formula Student UK, the annual design, build, test, and race competition run by the Institute of Mechanical Engineers, hosted by Silverstone. Achieving the highest placement ever for a University of Glasgow team, by a significant margin of 30 places, can be attributed to several key improvements in accuracy and time management, something that would not have been possible without the close co-operation of Gratnells Engineering.
When the need was identified for improvements on small gains across the car, including reliability and ease of repair, a relationship with Gratnells Engineering was formed. The supplier's ability to source, cut, order and deliver large quantities of steel tubing (whilst maintaining accuracy of cutting profiles) quickly solidified them as a preferred partner. Gratnells would then implement an iterative design process that locked many parameters down at the beginning of the year, such as the retainment of a tubular steel spaceframe chassis, which ultimately allowed for the most thorough testing regime applied to any UGRacing car ever made. Testing over a month before the competition allowed many small problems to be ironed out and allowed the UGR-17 to run on a dynamometer, giving the team highly accurate running data on engine performance.
Organisation is a key part of Gratnells methodology, so all supplied parts were numbered to eliminate time wastage when sorting tubes ready for assembly. By removing the need for tube adjustments, welding of the spaceframe took a total of 3 weeks which was a significant improvement on previous years. The ability to laser cut tubes to the exact profile of the UGR-17 CAD model proved invaluable as accuracy in the spaceframe improved reliability and expedited assembly, thanks mostly to the built model matching the CAD model where everything had been designed and tested.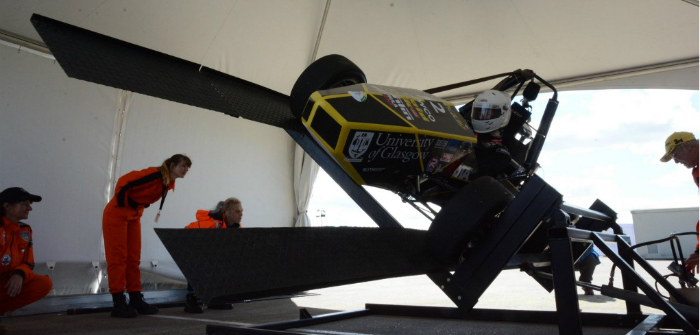 The Jigging, which allows the spaceframe to be assembled for welding, must be extremely accurate as the suspension geometry can only be as accurate as the jigging is. This was made from steel box section provided by Gratnells and maintained accuracy to within fractions of a millimetre. The base rails were also laser cut to ensure all parts of the jig, steelwork or MDF could be positioned correctly with relation to the suspension points.
UGRacing's impressive achievements this year have continued off the track as they have raised over GB£1000 for blood cancer research charity Anthony Nolan. The team now has its sights set on further improvement and is using this year's partnership with Gratnells as a springboard to prepare an even stronger entry for 2018, including venturing for the first time into European competition.
Submitted by Gratnells Engineering